Mother & Daughter Playdays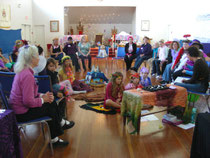 Calling All
Mothers & Daughters,
Grandmothers, Sisters & Girlfriends
GODDESS .. FAIRY..
PRINCESS PLAYDAY ...
(Layla has been getting a lot of requests for another Mother/Daughter PLAYDAY) if you are interested please email to be on a contact list when date is scheduled)

A special day for women of all ages to come together in community to play ...
Crafts, Lantern Making, Vision Boards, Spa Pampering, Mini Workshops, Crystals, Mini Tarot Readings and Plenty of Fun !!!
Time: 11am - 4pm
Date: TBD
Location: TBD - Victoria, BC
Cost: $40 first person $10 for additional family members (5 yrs & older)  
 Includes light lunch/snacks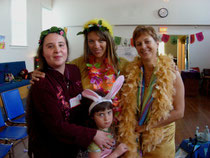 Tanya, Terra, Layla, Mirari
~ My friend Lori-anne and I became roomates in 1986; so our daughters, Terra and Tanya, are like sisters. Terra's children, Mirari and Eron are like my Grandchildren. Unfortunately Lori-anne was out of town at the time of this event. But we are family and try to spend as much time together as possible...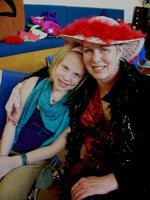 First Goddess, Fairy Princess Playday - November 21, 2008
In dedication of Glenda
When I first decided to offer the Mother / Daughter Day - I had to wait for my daughter Tanya to come home from Australia and her travels. Once we had a date, I became very excited about creating this special day, as I believe all Mothers/Daughters can use special one-on-one Play time.
I spoke to my friend Glenda about this event, and knew in my heart immediately that this day would be dedicated to her and her daughter Lauren. At the time Glenda was going through Cancer. All of her great "Goddess" friends rallied around her, so they joined together with their daughters to celebrate this day.
Lauren was 6 years old when Glenda first got cancer and passed away on her 12th birthday (approximately 1 year after the playday). A very special service was held, followed by a true "Goddess Celebration", as Glenda had wished. We circled LOVE around Lauren as we danced and played - the ORBS in the photos show us that the spirits are all around us, and love to play as well! I played the DVD from the Mother/Daughter day, and we were all moved to tears... tears of JOY as we remembered what a magnificent day we had ... and the memories Lauren will always have of her mom and of that very "Magical" day they spent together.
It is so important to take the time to enjoy as much Mother / Daughter / Grandmother time as Possible - as each day is precious and special!
Enjoy the Photos of this very special Mother/Daughter/Grandmother/Sisters/Girlfriends Day